The other day I blogged in honor of my friend
Erika's birthday
, so today I thought I'd send out birthday wishes to her husband Matt as well. How fun is it that they have birthdays just a few days apart?!
Matt is a super smart guy and a talented designer of all sorts of cool stuff. Just check out
his awesome website
and all of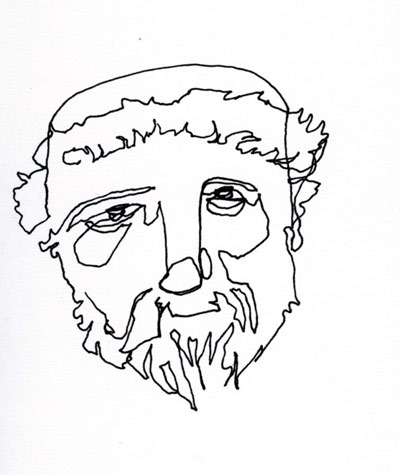 the crazy things in the "fun projects" section. I think one of the most amazing is his current "
Pope by Pope
" sketch experiment in which he is doing blind contour drawings of each of the Popes throughout history. Some of my other personal favorites are the
Vestimentis Ursum
projects in which he takes apart mechanical children's toys. Even the picture of Matt above is part of a unique project of his from last year--he grew a beard and then spent a week just shaving it off, bit by bit! There aren't many people in this world as creative as Matt, that's for sure! Happy birthday to the other half of the Kirklands!